Like everyone else, I've been cooking a LOT more due to quarantine. Obviously at this point in the year (September), NYC is open again and we're able to eat out more. But I've still been cooking almost every single meal at home!
I'm a creature of habit, so once I find a recipe, I make it multiple times (until I get sick of it, ha). Below are all of the best recipes of quarantine I've made and enjoyed during this awful freaking year! Enjoy, and let me know if you try any of them :)
P.S. I double all of these recipes so we have leftovers for lunch every day.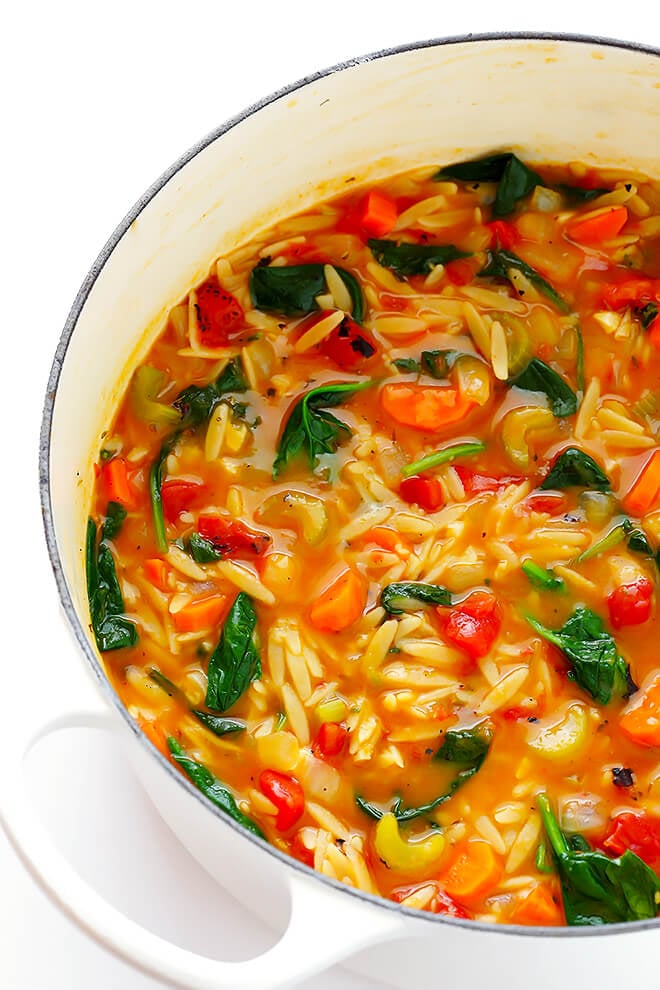 So hearty! I love a good orzo soup.
Chunky Beef, Cabbage and Tomato Soup (Instant Pot OR Stove Top)
I've made this 3x in the past 2 weeks. It's that good.
Air  Fryer Salmon with Maple Soy Glaze
I steam some frozen broccoli on the side with this! It's a super, super simple recipe that I make allllll the time.
Spicy Honey Lime Chicken Thighs
I've made this recipe countless times in the Q. It's soooo good. I have since shared the recipe with Idan's family and they make it all the time, too. I usually pair it with frozen broccoli to make things easier!
Pan Seared Salmon with an Herb Pesto Vinaigrette
This one is tangy and yummy and healthy!
Sheet Pan Moroccan Chicken with Sweet Potatoes & Cauliflower
This recipe!!! I've made it at least 4 times in the past month. It's incredibly flavorful and I cannot get enough.
The Best Chicken Soup You'll Ever Eat
This really is one of the best chicken soups I've ever eaten. It's loaded with ginger and turmeric and chicken, making it great for your immune system (especially as we approach cold + flue season… in addition to Covid. Good luck everybody).
Healthy Slow Cooker Chicken Tikka Masala
OMG this is SOOOO good. We buy the garlic naan from Trader Joe's and stick it with this recipe. It's so incredibly flavorful and hearty–I can't recommend this recipe enough!
//
What have you made during the year of extra cooking? Comment below!
If you liked this post, you'll like:
Knockoff Sweetgreen Harvest Bowl
The Best Chocolate Chip Banana Bread
6 Delicious Cookie Recipes
Slow Cooker Black Bean Turkey Chili